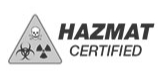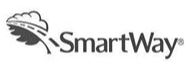 Dry Vans
Dry Vans are ideal for solid, non-perishable items that do not require refrigeration. They can be loaded onto short vans that are 20 feet long, or larger trailers up to 53 feet. For larger and heavier loads, ET Transport has wide vans, high cube vans and multi-axle vans, too. In case your goods require ventilation, vented vans are also available. Let ET Transport know what type of load you have, and we will custom-tailor the ideal transportation solution for you, getting your load to its destination safely, securely, and on time.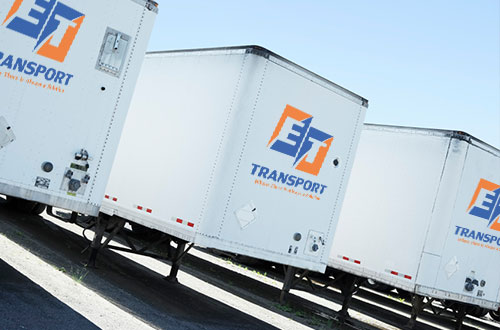 Reefers
If your cargo is sensitive to temperature or moisture, a temperature-controlled refrigerated van, or "reefer", is what you'll need. There are three major categories of reefers. The first and most common is a reefer truck with either refrigerator or freezer capability (depending on how low of a temperature your load requires). For even colder and more sensitive material, a cryogenic reefer is required. These are quite rarely employed, usually for specific types of medical or technical material. The final type is a heated van, for cargo that requires warmer environments. The moisture levels can also be controlled, primarily through the type of flooring in the trucks, as well as ventilation. The reefers come in a variety of sizes suited to your load.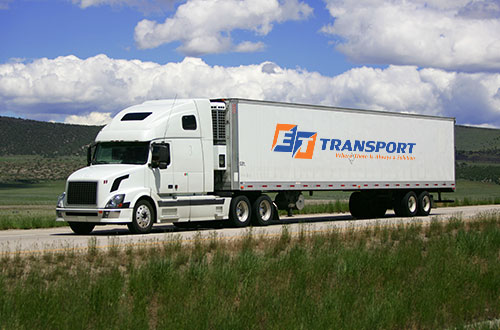 Flatbeds
For large items that are not sensitive to the sun, flatbeds with no walls or roof are ideal. Typically, they come in 48 or 53 foot sizes, however, ET Transport is equipped with extendable flatbeds that can carry loads up to 100 feet and 40 tons. Is your cargo even heavier? No problem – we have perimeter deck trailers that can haul up to 150 tons! With both removable goosenecks (RGNs) and extendable ones, we can stabilize the truck to ensure safety and security of your heavy cargo. Depending on your load, ET Transport will custom-tailor the perfect flatbed solution for you, making use of step decks and double decks, lowboys, beam trailers and a variety of other appropriate equipment.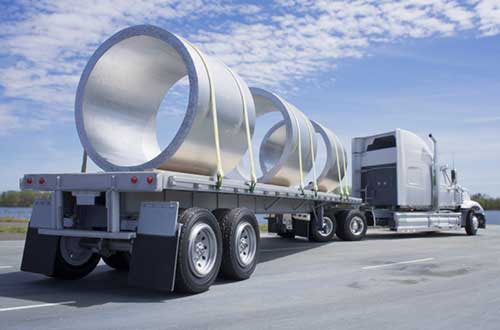 Roll-tites / Conestoga
At ET Transport, we custom build our Roll-tites (aka Conestoga Trailers) to accommodate freight up to 104″ high – 4″ higher than the industry's standard.
We maximize the width of the trailer up to the legal height of 102″ and can haul as heavy as 45,000 lbs. Our fleet currently includes both 53′ and 48′ trailers.
These industry-leading, modern roll-tites ensure that your shipment is delivered safely and securely.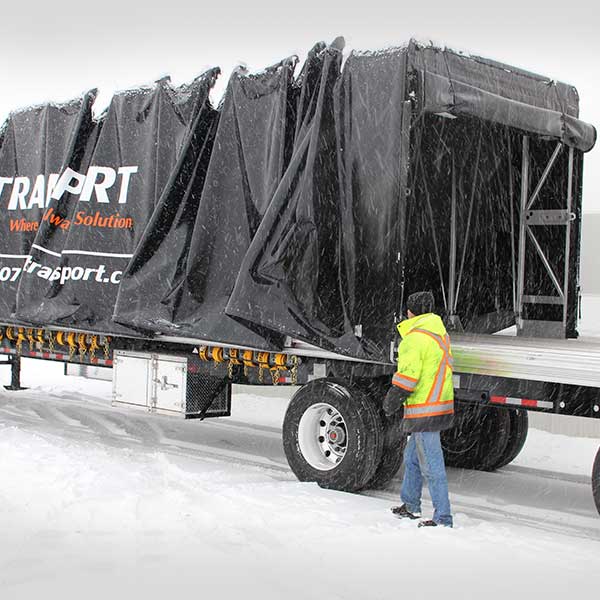 Request a Quote
Complete our online quote form to get in touch with a transportation specialist.
Request a Quote