While freight transportation continuously evolves, the popularity of dry vans shows no sign of slowing down. Celebrated for their efficiency and cost-effectiveness, these vans remain a solid and reliable option for a wide variety of transportation needs.
In this article, we'll explore the 7 Key Advantages of Using Dry Van Shipping for Your Freight Needs and why these vehicles are the top choice for shipping dry goods.
1. Cargo Versatility
Dry vans are highly versatile and capable of transporting a diverse range of goods that don't require refrigeration or temperature-regulated conditions. This flexibility makes them invaluable across a wide range of industries, each with its own unique shipping requirements.
ET Transport regularly provides dry van shipping for a variety of goods, including: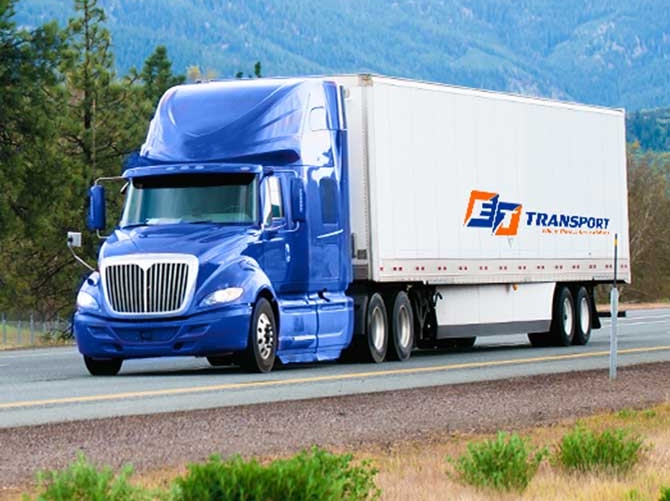 2. Unmatched Weather Protection
The completely enclosed structure of dry vans is their biggest defense against weather. Whether it's rain, snow, or extreme heat, this design ensures the safety and integrity of your cargo throughout its journey.

At ET Transport, we take this protection up a notch. Our routine includes regular maintenance and refreshing our fleet every five years. It's our way of guaranteeing your goods stay safe and secure, no matter how unpredictable the weather gets.
3. Enhanced Security for Your Cargo
Dry vans offer an added layer of security with their ability to be securely locked and sealed during transit. This guarantees that your cargo is protected from theft and vandalism from the time your shipment departs until it safely reaches its destination.
ET Transport takes security a step further by using advanced telematics systems for real-time tracking of your shipment – offering both a secure and traceable transport solution.
4. Diverse Transport Options
Dry vans are available in a variety of shapes and sizes, providing a range of options to meet your specific shipping requirements. From smaller, 20-foot trailers for lighter deliveries to spacious, 53-foot trailers for larger loads, there's a dry van to suit each shipping scenario.
For specialized shipments, ET Transport's dry van fleet also includes wide vans, high cube vans, multi-axle vans, and even vented vans, catering to all sorts of cargo needs.
5. Economical and Efficient 
Dry vans are a cost-effective choice for cargo shipments. Without the need for climate control or HAZMAT solutions, you avoid the higher costs associated with specialized transportation, making it a budget-friendly option for various shipping demands.
For additional savings, ET Transport offers a reliable LTL (Less Than Truckload) service. This allows those with lesser cargo to save money by sharing transport space and costs with others, further stretching the economic benefits of dry van shipping.
6. High Availability and Accessibility
Dry vans are remarkably adaptable, able to manage both short trips and extensive long-haul journeys with ease. This adaptability makes them an ideal choice for a variety of transportation needs, whether you're sending goods across town or across the country.
As the most common freight transportation mode on the road, ET Transport has a wide selection of dry vans ready to meet your shipping needs. Our fleet's consistent availability is backed by a large pool of experienced drivers and logistics experts who are well-versed in managing and operating these vehicles effectively.
7. Standardization and Compatibility
The standard dimensions of dry vans ensure compatibility with most loading docks, warehouses, and distribution centers. This uniformity streamlines the shipping process, enabling shippers and receivers to efficiently plan and execute logistics operations without worrying about space constraints or vehicle compatibility issues.
In addition, ET Transport offers customizable warehousing services throughout multiple states and provinces in Canada and the USA. Giving you the peace of mind that your shipments can be handled by industry experts from start to finish.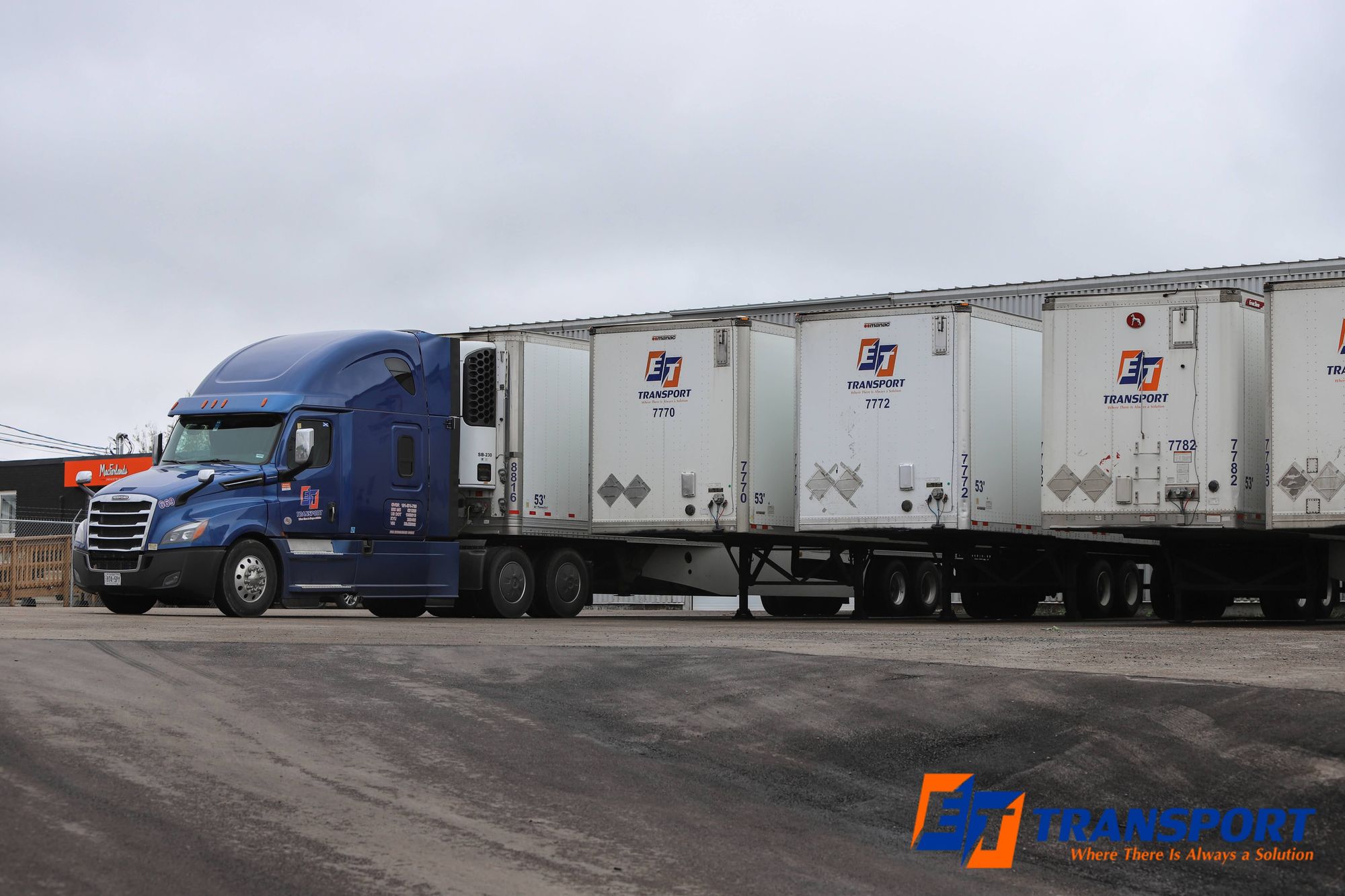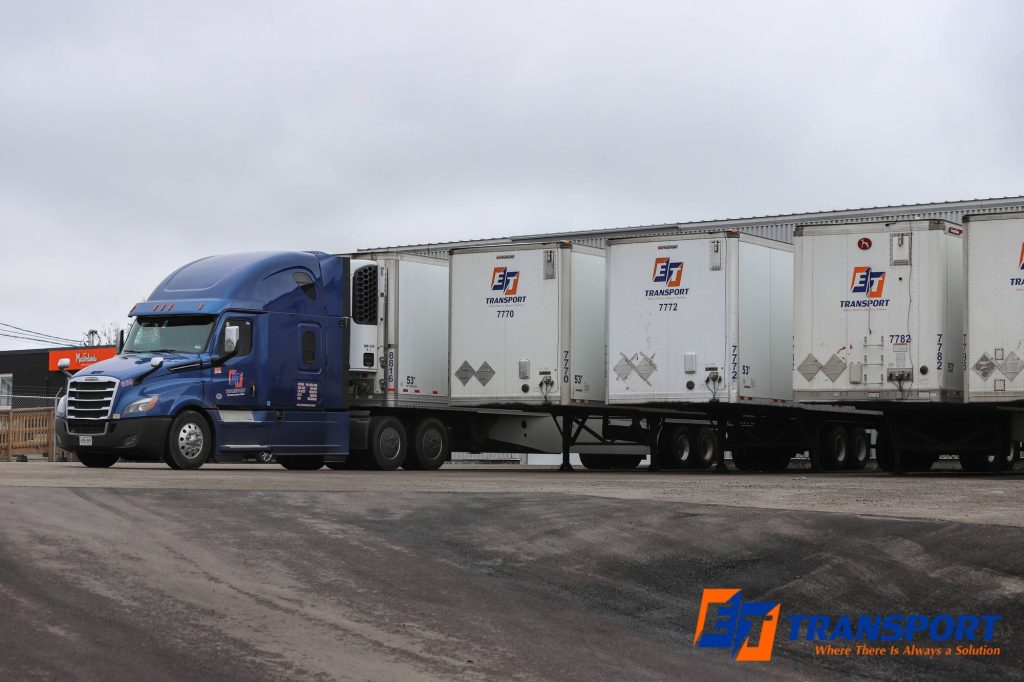 Choose ET Transport for Reliable Dry Van Shipping
While trucking trends have come and gone, the reliance on dry vans shows no signs of hitting the brakes. From versatility to economic benefits, they continue to be a front-runner in logistics transportation.
As you consider options for your next delivery, look no further than ET Transport. Our fleet of well-maintained dry vans, coupled with our team's professionalism and commitment, ensures that your cargo reaches its destination safely, securely, and on time.

Why Ship With ET Transport?
Asset-based and Canadian: We are a Canadian-based company with 2 locations in Canada (Ontario & New Brunswick).
Dry, cool, heated, and flatbed: Whether your load requires heating, cooling, or custom-tailored delivery options – we've got you covered.
Fully Certified (Learn more about our certifications).
Over 100 trucks: Our fleet of modern trucks can be used to transport your goods in Canada and across the border.
We own over 200 trailers to transport your perishable and non-perishable goods.
98% On-time delivery: We're constantly innovating our trucks to ensure you the most accurate and reliable delivery time.
We offer 24/7 Customer Service.