At ET Transport, we strive to find flexible storage and shipment options to accommodate companies of all sizes. Our Moncton, NB warehouse services help our clients bridge the gap between their central location and the critical domestic and international routes to and from the Maritimes.
Here are 6 reasons why ET Transport's Moncton, NB warehouse is a strategic storage solution:
1. We Offer Short and Long Term Storage
At ET Transport, we understand that each business has unique and constantly evolving needs. That's why we offer a variety of flexible solutions to accommodate every type of company.
Our Moncton, NB warehouse is equipped to handle:
Simple cross-docks
Daily storage
Monthly storage
Emergency storage
Temporary storage
Long-term storage
Our warehouse is perfect for established companies looking for ongoing storage to handle excess stock, smaller businesses with limited inventory, or seasonal brands searching for convenient temporary warehousing.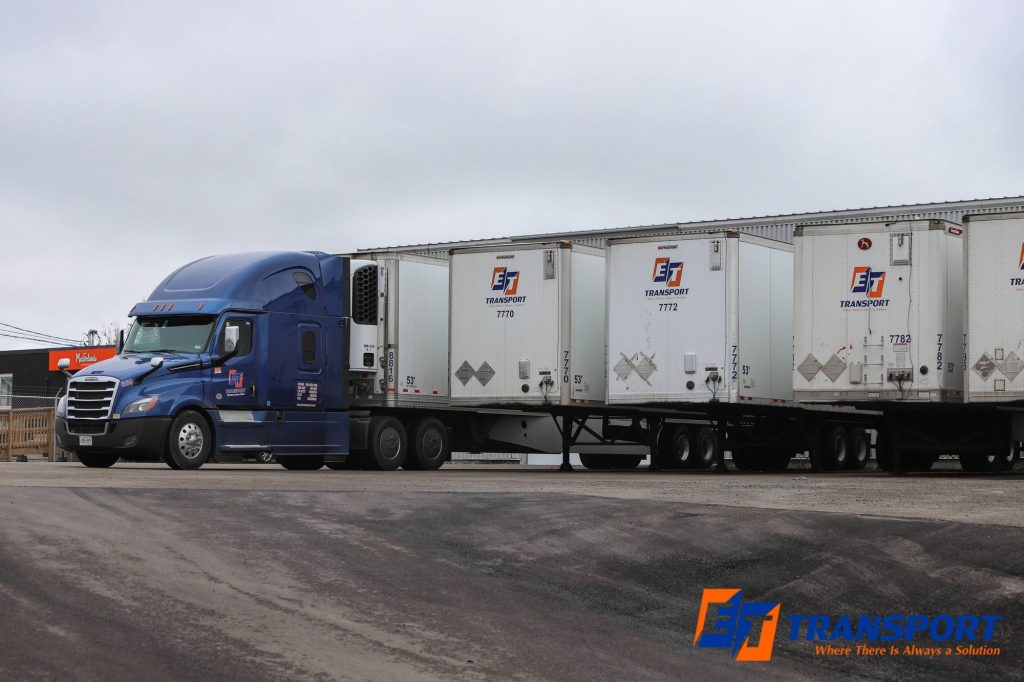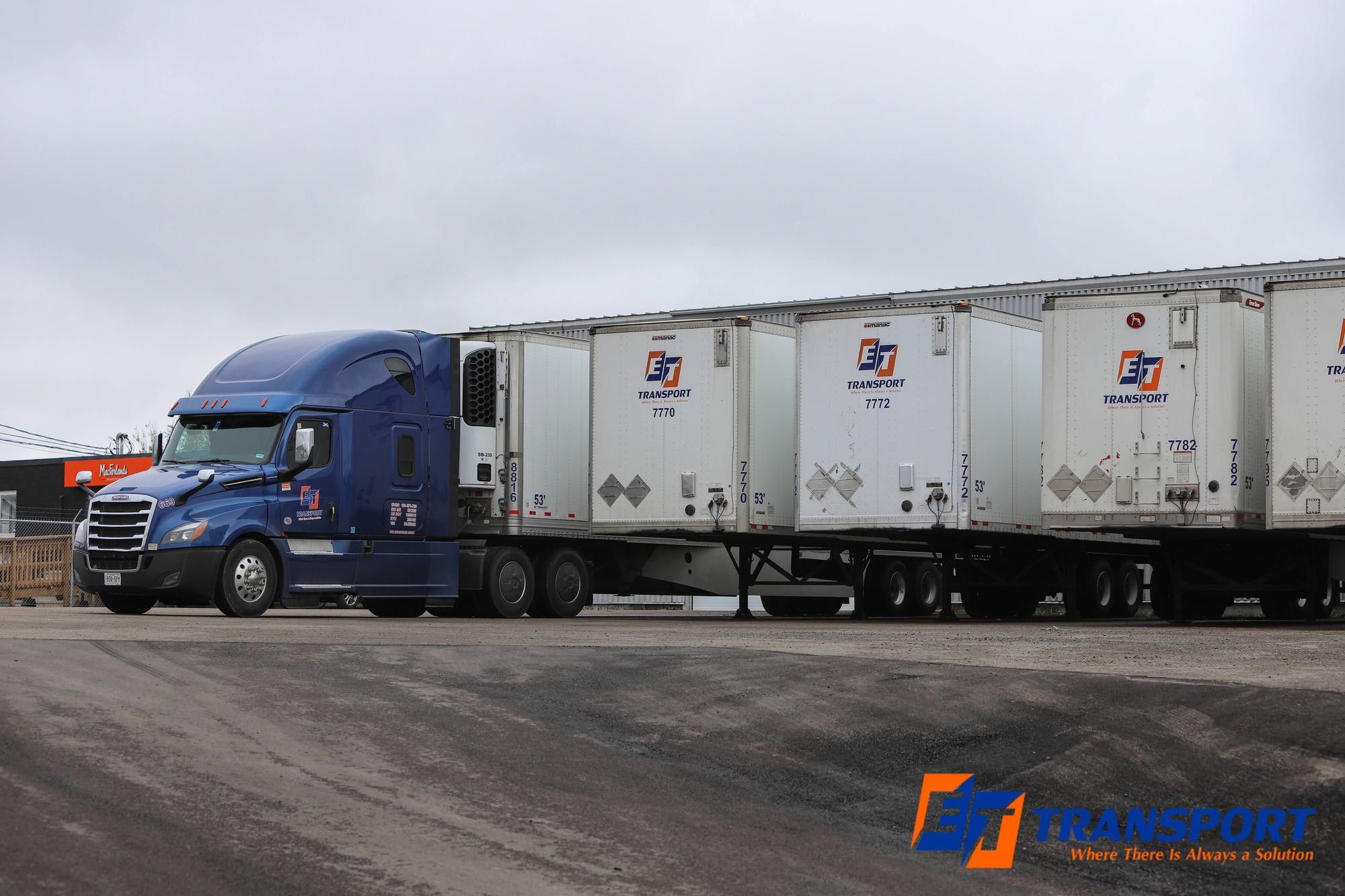 2. Our Warehouse is in a Strategic Location
Moncton, New Brunswick, is located in the heart of the Atlantic Gateway and Trade Corridor and is a key transportation hub for the Maritimes region. What does this mean for your business?
Companies utilizing our Moncton, NB warehouse have a competitive advantage when it comes to storage and shipments. Not only will you be located in the Maritimes hub, but you'll also be strategically situated between the US west coast and Europe– right near international ports and the United States border.
ET Transport's central location helps businesses streamline their supply chain by staying close to the action for flexible and fast domestic and international shipments.
3. Take Advantage of Easy Distribution
When your goods are ready to be shipped, ET Transport can help. Inbound and outbound LTL and FTL shipments can be expedited by our drivers within the provinces of New Brunswick, Nova Scotia, PEI and Newfoundland.
In addition, all of our shipments are tracked from start to finish using our state-of-the-art satellite-tracking technology, so you'll have real-time information on where your freight is throughout the entire journey.
Are your goods coming from or heading to the USA? ET Transport can even assist your company with cross-border shipments leaving or arriving at our Moncton, NB warehouse. Fill out our Freight Quote Form for more information.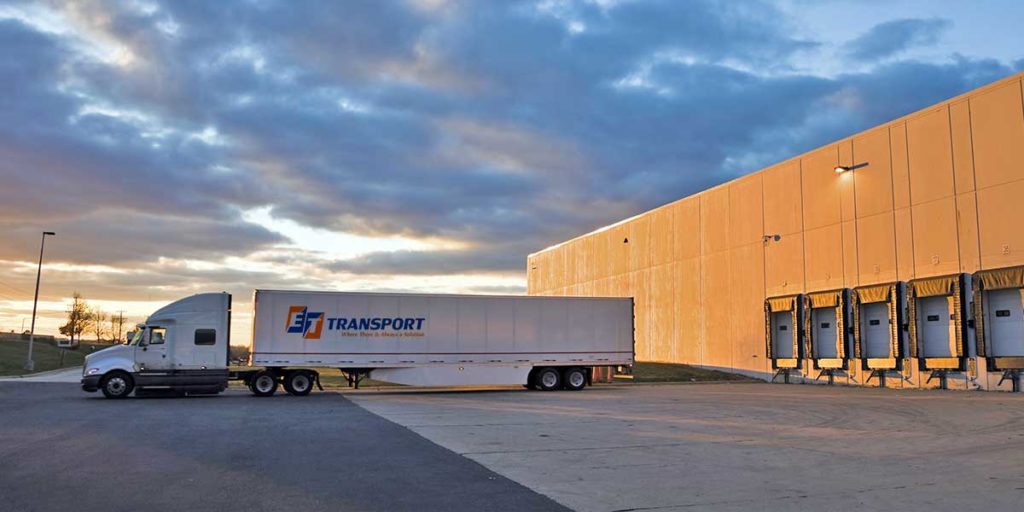 4. Cost-Effective Fees
Many growing businesses are forced to grapple with the expensive costs of renting or buying warehouse space, equipment, and security. At ET Transport, we believe all companies should have the opportunity to expand without the stress of crippling overhead expenses.
Our flat-rate storage fees at our Moncton, NB warehouse are:
1-5 Skids: $15 per skid per month
6-10 Skids: $12 per skid per month
11 Skids or more: $10 per skid per month
Plus: $10 in/out fee per skid
This way, our customers can eliminate the logistical and financial headache of setting up a warehouse they're not ready to use regularly. Instead, we offer flexible support and storage so you can focus on taking your company to the next level.
5. Secure & Modern Warehouse
Most importantly, our Moncton warehouse is safe and equipped with modern facilities to accommodate your business' needs.
You can feel confident storing your goods with ET Transport, knowing that our Moncton warehouse is:
Completely Secure
The warehouse is gated and has 24/7 surveillance to ensure your goods are fully protected around the clock.
Temperature-Controlled
We carefully monitor the temperature and humidity within the warehouse to keep your goods dry and fresh.
Fully Staffed
Our Moncton warehouse is fully staffed with our team of transportation and logistics experts.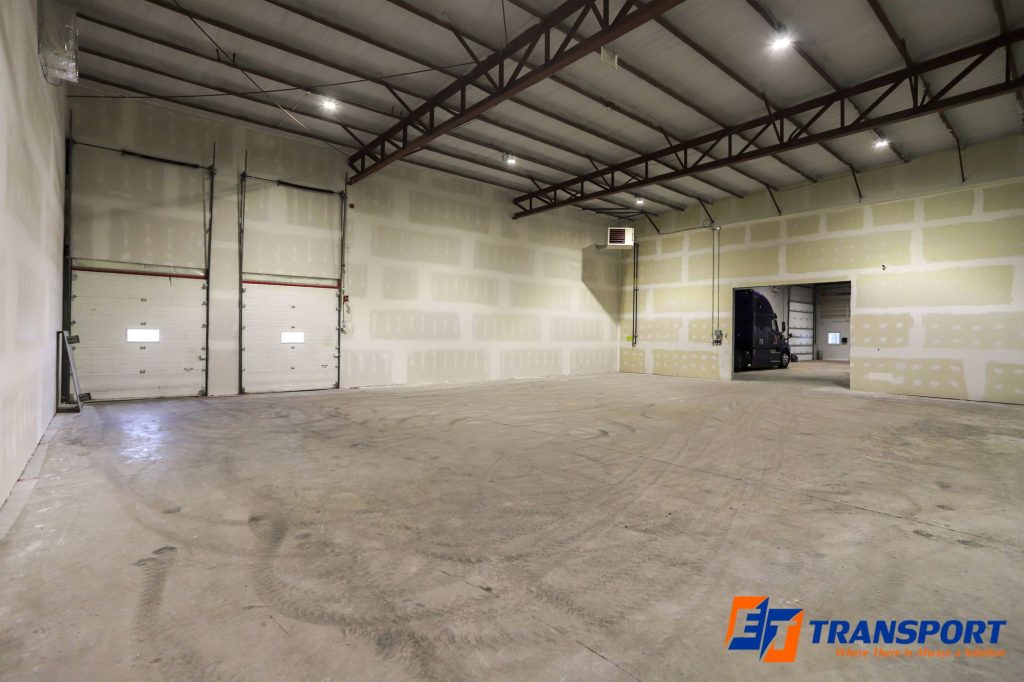 6. Sustainable Supply Chain
If the flexibility, convenience, and low costs weren't enough, our central warehouse could also contribute to reducing your company's carbon footprint.
By having your storage facilities conveniently located in the center of the Maritimes region and Trade Corridor, you'll steadily lower the number of miles travelled to get to your target destination. With the rising cost of fuel combined with the effect on our planet, this small decision could significantly decrease your carbon output and support the financial health of your supply chain.
Are You Searching for Reliable Warehousing in the Maritimes?
Whether you're in need of a long-term storage solution, a strategic warehouse hub, or assistance with expedited shipments, ET Transport would be happy to help. Fill out our Freight Quote form for more information and to speak directly with one of our transportation specialists.
Why Ship With ET Transport?
Asset-based and Canadian: We are a Canadian-based company with 2 locations in Canada (Ontario & New Brunswick).
Dry, cool, heated, and flatbed: Whether your load requires heating, cooling, or custom-tailored delivery options – we've got you covered.
Fully Certified (Learn more about our certifications).
Over 100 trucks: Our fleet of modern trucks can be used to transport your goods in Canada and across the border.
We own over 200 trailers to transport your perishable and non-perishable goods.
98% On-time delivery: We're constantly innovating our trucks to ensure the most accurate and reliable delivery time for you.
We offer 24/7 Customer Service.