Freight rates are rising at an alarming speed and are expected to remain high well into the future. Why are they so inflated? And what does that mean for future shipments? 
We wanted to break down the current situation by discussing 5 reasons why freight rates are soaring and what ET Transport customers can expect.
1. Cross-Border Vaccine Mandates
The truck driver vaccine mandate has significantly impacted the transportation industry. As of January, an estimated 5% of 180,000 cross-border drivers had already left the workforce, leaving many freight companies struggling to meet their standard schedule for international shipments.
To put that number into perspective, if 9,000 truck drivers are no longer making 2 shipments per week – that's a staggering 18,000 outbound loads and 18,000 inbound loads that aren't being transported.
At ET Transport, 99% of our cross-border drivers are fully vaccinated, so our customers can expect the same consistent service with no international shipment delays.
2. Increased Driver Rates
Due to the major shortage of truck drivers, current driver costs have soared. For example, cross-border freight rates in January of 2021 were around 50-55 cents per mile, while the average trucking rates in 2022 have reached a new high of 70-75 cents per mile on average. That's roughly a 50% increase in driver compensation over a year.
However, despite these competitive rates, vacancies are still through the roof and are directly affecting the reliability of many transportation companies.
While every shipping company will feel the effects of a dwindling workforce, ET Transport takes a hands-on approach to recruitment and has a strong core team of drivers that allow us to maintain our steller 98% on-time delivery rate.
3. Rapidly Rising Fuel Costs
Unfortunately, the cost of fuel is rising at an unprecedented rate. Over the past 14 months, the average cost of fuel per gallon in the USA has risen over 70%, with no signs of stopping.
Jan 2021: $3.10 per gallon
Jan 2022: $3.65 per gallon
March 2022: $5.30 per gallon
Over 12 months, there was already a considerable increase in additional fuel costs per gallon in North America. However, with the political turmoil in Europe, we've watched those numbers skyrocket even higher in a matter of weeks. 
Unfortunately, there's no way to completely work around high fuel costs; however, our drivers utilize state-of-the-art technology and have crucial measures in place to reduce idling times and unnecessary fuel usage.
4. Increased Cost of Equipment
The transportation industry has also been slapped with a significant increase in the cost of equipment. For instance, in just under a year, the average price of a brand new 53ft trailer has inflated nearly 50%.
2021: $40 – 45,000CAD
2022: $60 – 65,000CAD
Unfortunately, there isn't any better news for freight carriers buying in bulk. These high costs are being felt across every corner of the transportation industry, leaving many companies struggling to purchase essential equipment to meet their shipment demands.
At ET Transport, we have always prioritized the regular servicing of our equipment to extend its life, keep our workplace safe, and have minimal service disruptions. As a result, our fleet is currently made up of 200+ well-maintained trailers, so our customers can feel confident that we're doing everything to limit soaring costs and ensure that their freight arrives safely and on time.
5. Booming Truck Market
To top it off, the truck market is now at an all-time high. In just a year, the prices for both new and secondhand trucks have risen approximately 20%.
These high prices are met with even higher demand. However, practically every dealership is now out of stock. The average wait time for a new truck is at least a year, while replacement parts can take weeks, if not months. The current market has left many shipping companies scrambling to find a solution to continue operating.
Fortunately, ET Transport has a substantial fleet of 100+ top-of-the-line trucks. With the emphasis we place on performing regular maintenance and replacing our entire fleet every 5 years, we've been able to stay ahead of the curve and ensure our operations are seamless.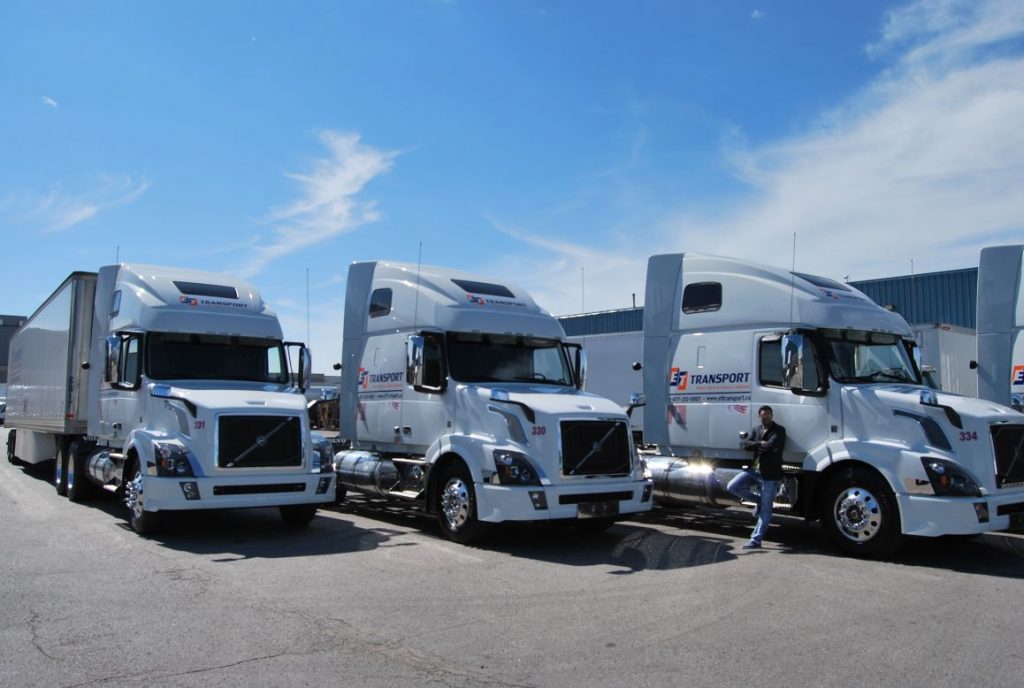 What Does This Mean for Your Company?
The effects of inflation will be felt across every aspect of the supply chain. Truthfully, there's no way for any company to operate sustainably without passing on some of the rising costs to the next customer down the line.
Every transportation service will be increasing its fees and billing at a rate that reflects the current situation. This means your business will be directly affected by higher shipping costs in the immediate future.
In the current climate, the most critical factor to consider when choosing a shipping company is whether they have set up their operations to combat significant problems like the ones we're presently facing.
What is ET Transport Doing Differently?
While we can't change the global economy, we can continue to provide dependable, 5-star service for our customers.
This is a challenging time, but that doesn't mean there aren't flexible solutions. ET Transport still offers the same custom-tailored services and can consistently deliver your goods safely, reliably, and on time.
More than anything, we want to provide transparency and an open line of communication with our customers. The prices can be alarming across the industry, and we feel that you deserve to know exactly why.
For any shipping questions or concerns, don't hesitate to reach out to our friendly team. We'd be more than happy to provide explanations and breakdowns to put your mind at ease.
Why Ship With ET Transport?
Asset-based and Canadian: We are a Canadian-based company with 2 locations in Canada (Ontario & New Brunswick).
Dry, cool, heated, and flatbed: Whether your load requires heating, cooling, or custom-tailored delivery options – we've got you covered.
Fully Certified (Learn more about our certifications).
Over 100 trucks: Our fleet of modern trucks can be used to transport your goods in Canada and across the border.
We own over 200 trailers to transport your perishable and non-perishable goods.
98% On-time delivery: We're constantly innovating our trucks to ensure the most accurate and reliable delivery time for you.
We offer 24/7 Customer Service.