Flatbed shipping is a specialized service that not every carrier can provide. At ET Transport, we understand the unique challenges that come with this type of freight which is why we've invested our efforts into extensive training and detailed procedures to provide the best service possible.
So here are 7 ways ET Transport streamlines flatbed shipping processes to keep our fleet running smoothly.
1. We Only Use Premium Trailers
Just because your cargo can't fit into a dry van doesn't mean it shouldn't be afforded the same amount of care and protection. That's why our entire fleet of Flatbed Trailers is made up of premium Rolltites (Conestoga). These trailers keep things running efficiently and save countless hours of time.
Some of the few things that make ET Transport's flatbed fleet a little different include:
We only carry 53ft trailers: this gives our customers the option to load and haul more product.
Our Rolltite trailers are custom built: to accommodate freight up to 104" high – which is 4" higher than the industry standard.
In addition, Rolltite (Conestoga) trailers offer weather protection up to 99.9%. This has proven time and time again to be much more effective at protecting cargo than a traditional tarp.
2. We Care About Regular Maintenance
We have countless systems and procedures in place to ensure all of our flatbed equipment is regularly inspected, cleaned, and repaired. Each of our flatbed drivers has their dedicated accessories that they can personally guarantee are in the best condition possible. Between checking straps to make sure they're not worn out, regularly oiling chains and binders, maintaining bungee cords, and more – our drivers will always be aware if anything needs replacing.
In addition, all of our current equipment is 2019 or newer. ET Transport's strict renewal and maintenance policies allow us to keep a close eye on our flatbeds and ensure that everything is up to date and in excellent working condition.
3. Safety is a High Priority
We place a high emphasis on workplace safety, especially for our flatbed drivers. From extensive safety training, hours of educational videos, maintained equipment, in-house mechanics, and additional seasonal checkups before winter – we make sure every aspect of our safety processes is exceptionally smooth.
However, the flatbed industry is constantly evolving, and we want our drivers to always be comfortable and confident handling the equipment and cargo. That's why we provide ongoing training with regular updates to our program and repeated training if our drivers feel like they need a refresher.
4. We're Prepared For Any Situation
At ET Transport, we understand that not every circumstance is one-size-fits-all. From commercial and industrial products to anything with an abnormal shape that can't be fit on a standard van, our flatbeds are truly the perfect solution.
Our flatbed division is typically used to transport large specialized commodities such as:
The best part is, our flatbeds give customers the flexibility to have their cargo loaded by forklift, tow trucks, cranes, and more. The specialized equipment we provide truly offers a level of versatility that cannot be compared to a dry van.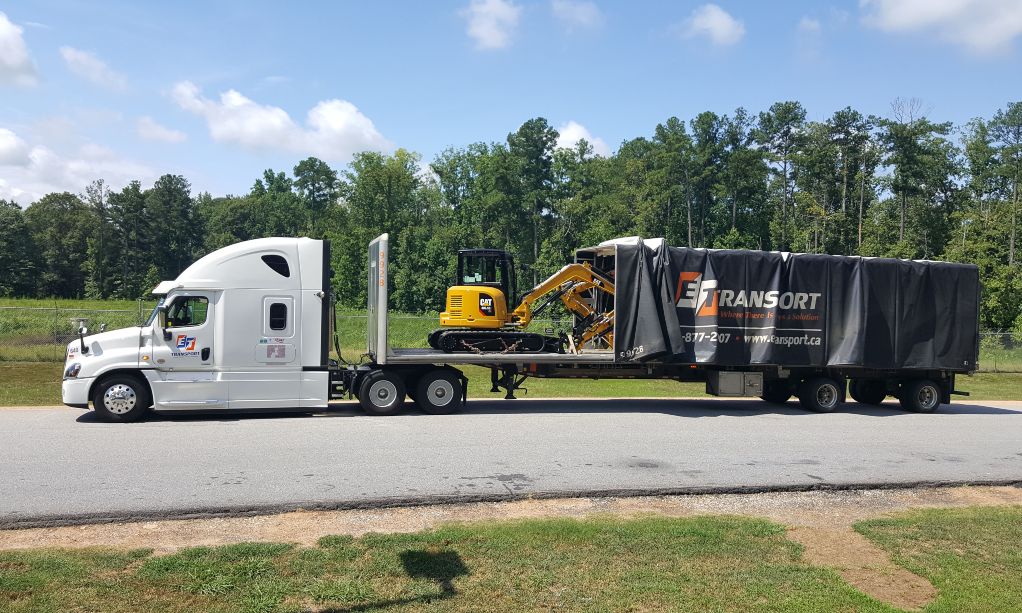 5. We Focus on Quality Communication
Over the years, we've invested in advanced technology such as Telematics, Electronic Logging Devices (ELDs), Application Programming Interfaces (APIs), and more, so we can deliver accurate and consistent information to both our drivers and our clientele. In addition, our entire fleet, including our flatbed division, utilizes state-of-the-art collision mitigation technology and cloud-based tools like Samsara, so we track our trailers in real-time, understand potential delays, and troubleshoot any issues directly with our drivers.
By employing this technology, we're able to offer a personalized service – ensuring our communication is streamlined and our customers have live updates on every stage of the flatbed's journey.
6. Our Flatbed Drivers are Professionals
When it comes to hiring flatbed drivers, we only bring in the best. Due to the unique and demanding nature of flatbed shipping, it's critical that our drivers are highly experienced and capable of taking on any challenge. That's why ET Transport requires all flatbed drivers to have:
A minimum of 2 years border crossing experience
Experience hauling aluminum and steel
A proven record and validated references
Hauling specialized materials requires seasoned drivers. We want our customers to feel safe with the knowledge that our drivers are completely qualified and prepared to take on the unpredictability that flatbed shipping can often bring.
7. Shipping is Secure and Reliable
Moving specialized commodities requires fast thinking and plenty of on-the-job experience. Our flatbed drivers have strong backgrounds in load securement and loading/offloading, typically carrying 7-8 different types of flatbed accessories for various types of commodities to ensure your cargo is completely secure and safe for travel. We also know that not all shippers have docks to unload vehicles, which is why all of our drivers are fully capable of offloading your shipment in an untraditional setting.
Furthermore, we pride ourselves on our stellar 98% on-time delivery rate. We know this reliability is a direct reflection of the effort we put into our flatbed shipping processes and across the rest of our fleet.
We'll Find a Way to Accommodate Your Flatbed Shipping Needs
At ET Transport, we specialize in solving unusual shipping requirements, and our flatbed division is no exception. So whether you're shipping unique materials or need a different type of flatbed trailer – we'll source the equipment and find creative solutions for all of your shipping needs.
---
Why Ship With ET Transport?
Asset-based and Canadian: We are a Canadian-based company with 2 locations in Canada (Ontario & New Brunswick).
Dry, cool, heated, and flatbed: Whether your load requires heating, cooling, or custom-tailored delivery options – we've got you covered.
Fully Certified (Learn more about our certifications).
Over 100 trucks: Our fleet of modern trucks can be used to transport your goods in Canada and across the border.
We own over 200 trailers to transport your perishable and non-perishable goods.
98% On-time delivery: We're constantly innovating our trucks to ensure the most accurate and reliable delivery time for you.
We offer 24/7 Customer Service.